Sunday
9:00 AM & 11:00 AM
Monday – Thursday
11:00 AM
"In this world today where we so much want to be loved, and belong, I envision a Catholic parish that reaches out to every person in every circumstance. Ministry, for me, is all inclusive. The Catholic vision of Jesus is at once demanding and liberating. It is this vision of ministry that I extend to anyone interested. And so, whatever your background, history, sexual orientation, or your spiritual needs might be, why not give us a try. Maybe Jesus can touch you through our expression of the Catholic Church." – Fr. Pete
"In this world today where we so much want to be loved, and belong, I envision a Catholic parish that reaches out to every person in every circumstance. Ministry, for me, is all inclusive. The Catholic vision of Jesus is at once demanding and liberating. It is this vision of ministry that I extend to anyone interested. And so, whatever your background, history, sexual orientation, or your spiritual needs might be, why not give us a try. Maybe Jesus can touch you through our expression of the Catholic Church." – Fr. Pete
Find Us on the WeConnect Parish App
Find Us on the WeConnect Parish App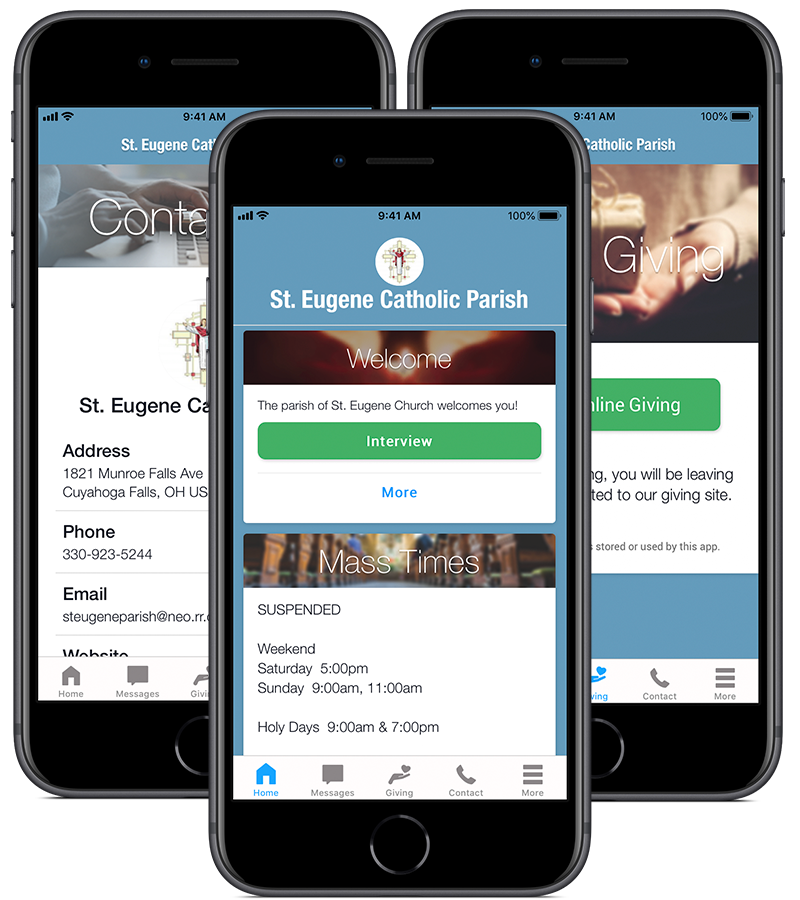 With the WeConnect Parish App, you can easily connect with St. Eugene Catholic Church on-the-go.
Download the app for free on either the Apple App Store or the Google Play Store.
You can search for "St. Eugene" or by location by typing in "Cuyahoga Falls, OH". Then, follow the prompts to select and set us as your parish.